The Sunshine Coast has something for everyone.  Although we are located on the mainland, many confuse us with an island because we are only accessible by ferry.  Because of this, the Sunshine Coast remained a novelty destination for British Columbians for many years.  In recent years, however, the Sunshine Coast has come in to its own as a popular vacation destination for not just British Columbians, but for visitors across North America and the World. 
From the hundreds of square
kilometers
 of untouched forests and mountains, to the breathtaking views, it is easy to see why many who visit fall in love with our area.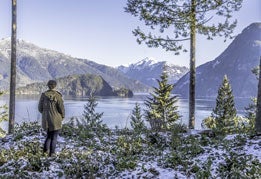 Here is just a short list of all of the activities and amenities you will find on the Coast:
Boating
Mountain Biking
Cycling
Kayak, Canoe, and Paddleboard
Hiking
Snowshoe & Ski
Golfing
Indigenous Tours
Fishing
Scuba Diving
Scenic Tours
Rock Climbing
The Sunshine Coast also boasts a growing number of 
fine dining establishments, cafes, bakeries, breweries, cideries, distilleries, and locally grown organic food
. Locals and visitors alike can spend years exploring and still find new hidden gems.
Raising a family on the Sunshine Coast provides a unique experience. While a visit to the 'big city' is only a ferry ride away, the Coast invites an outdoor lifestyle that will keep your children active year round. Hiking, biking, and boating are only a few of the many activities that will help your children gain an appreciation for the natural world in ways that are much more difficult in an urban environment. With our own school district (SD46) boasting nine elementary and four secondary schools, the local education system has developed to rival urban schools in terms of course offerings, quality of education, and school rankings.
The vibrant community, picturesque beaches, and plentiful amenities are waiting for you.
I'm here to guide you, every step of the way through the Sunshine Coast real estate buying and selling process.  Let's talk!