This spring break we began to feel the real impacts of Covid-19 on our daily lives here. We are so fortunate on the Sunshine Coast to have nature at our door step to enjoy while maintaining recommended social distancing. This post was started well before Covid-19 became part of our daily lives. I chose to post it now with this brief explanation because I know myself and many other parents on the Sunshine Coast who are now working from home and homeschooling are finding an important part of our day is incorporating outdoor time. Please note that links to each park are included if available please check the links before visiting any of these locations to confirm they haven't been closed.
This spring break was full of local, outdoor adventures and I was reminded of how fortunate we are to have so many family friendly hikes and family forest walks on the beautiful Sunshine Coast. Here are a few of my favourites!
1.
Hidden Grove
 is located in Sechelt, past Porpoise Bay. There are two trails: one is a short loop, specifically designed to be wheel chair accessible, so it's also great for strollers. If you're looking to take a break from driving and let the kids run/bike, without much effort for the adults, this is the one because it's called 'take it easy', or 'ayut-tsut,' in the Sechelt language. There are educational placards throughout the trail explaining traditional shíshálh Nation practice of cedar bark stripping and other unique findings specific to the trail.
There is a longer 'out and back' trail that isn't entirely stroller friendly, so if you have little hikers with you be prepared to give piggy backs! The user-friendly colour coded markers make it virtually impossible to get lost, regardless of how long you stand mesmerized at the beautiful 'Lonely Giant' tree.
Your pup will love this off-leash friendly walk!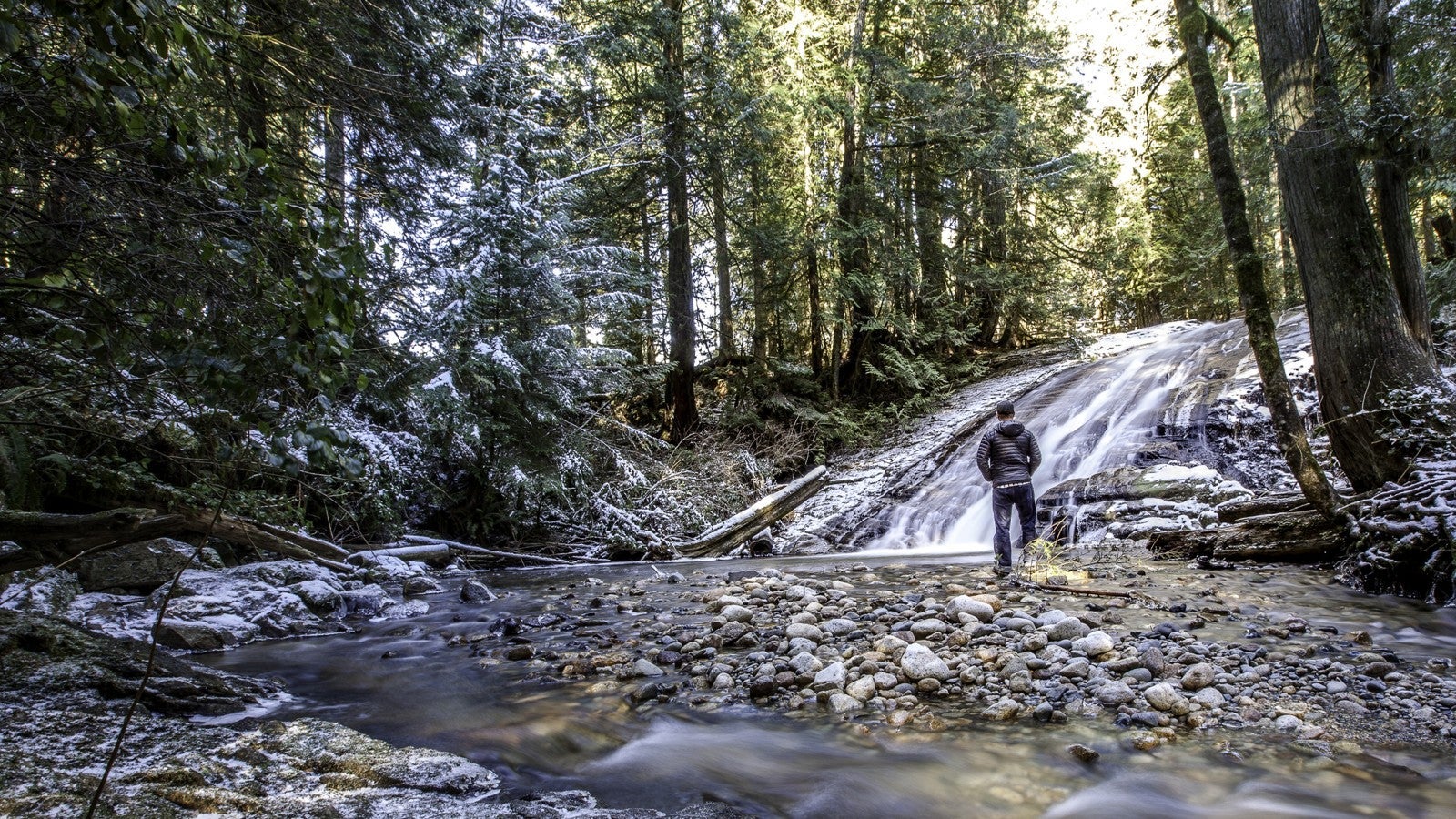 2. 
Cliff Gilker Park
 in Roberts Creek (between Gibsons and Sechelt) has four walking trails behind the grass playing field. This is a favourite hike for locals before or after soccer games. One of the four trails are wheelchair and stroller friendly, and includes a platform to view the waterfall. This is a good rainy day walk, as you're mostly covered by the canopy of trees.
3. 
Soames Hill
 This is the big, beautiful peak you see between Langdale and Gibsons when you're approaching the terminal on the ferry. It's one of the steepest climbs on the coast, so if you're missing the Grouse Grind, and want to feel the burn (in a far less crowded and lusher spot) this is the hike for you! When you reach the top, you'll find a perfect photo backdrop of the beautiful town of Gibsons.
4. 
Chapman Creek/Falls
 There are multiple entry points to these trails. For our family hike we took the Airport-Selma Park Connector Trail. This portion of the hike to the Chapman Bridge is easy (fourty-five minutes) and stroller/little hikers friendly. If you want to keep going and see the falls, watch for the Davis Bay/Selma Park sign on the left, after the bridge, and after a short, steep climb, you arrive under the Selma Park Power Lines. The forest edge resumes in a few minutes. Look for the trail furthest to the left, and then it's thirty minutes or so to the falls.
5. 
Homesite Creek Campground Trail
. Halfmoon Bay (North of Sechelt). You'll turn right, on the north side of the highway at the sign for the campground. Follow a short forestry road to the trail entrance sign. It's an easy, fourty-five minute hike with little elevation. This trail is unique with its karst topography (caves, etc.). There is a lovely wading area at the end of the trail, if you're there in summer or if your pup needs a dip. There, you'll also find picnic tables where you can have a break before driving across the highway to the next hike!
6. 
Homesite Creek Recreation
 across the highway, on the south side, has two trails loops, on opposite sides of the creek. The southern loop is short, and easy for little hikers, but not stroller friendly. The other loop leads to a beautiful waterfall.
7. Fairy Trails: Selma Park (just north of Davis Bay). To enter this magical walk, enter from Selma Park Road Trail entrance, turn left and the trail will be on your right. For map friendly hikers there are several trails along the way, or you can just make a big loop, if you want to keep it simple. Be sure to be on the look-out for little gifts left out by community fairies!
8. 
Kinnikinik
 is in Sechelt, right behind the sports field. You could spend ten minutes here, or three hours in these multiple, user-friendly, colour-coded trails. This is a kid friendly, flat trail-system but not accessible in terms of strollers. Off-leash pups welcome!