'Shoulder Season' Staycations on the Sunshine Coast
Happy Labour Day weekend. We are constantly pinching ourselves that we get to live on the beautiful Sunshine Coast, on the traditional territories of the Squamish (Skwxwú7mesh), Sechelt (Shíshálh), and Sliammon (Tla'Amin) and Klahoose First Nations. Tourists flock here every summer, but we get to stay all year! In these unique times, we feel fortunate that we can travel locally and have so many beautiful options. Here are some favourite, local accommodations to suit an array of budgets, ranging from simple cabins to resorts. This fall you don't need to go far to 'get away from it all'.
Cabins on the Coast
Located just fifteen minutes from downtown Sechelt, Tuwanek is at the end of the Sechelt Inlet Road, so it really has a sense of being cut off from everything. The three water view cabins each boast unique qualities, from a hot tub, to a claw foot tub, to an expansive deck; you'll want to stay at them all! Just steps away, access to incredible diving through the multiple Beach Access entries in this 'cottage country' feel community. Burnett hike is just ten minutes to an amazing waterfall view. All of this, and still just a short drive to restaurants and amenities. Pets are welcome and the hosts are simply lovely.
John Henry's Marina and Resort
Located in the Garden Bay district of Pender Harbour, John Henry's includes cottages, RV sites (dogs permitted!) and even an ocean front camping spot. Their general store is a favourite stop for groceries, fresh food at their café, and the general store offers a great selection of cold beer and wine. Their marina offers a broad array of boating amenities and rentals. And even if you aren't staying here, I highly suggest stopping in for a cone or milkshake for the road! There are four funky, brightly painted cabins (think St. John's, Newfoundland). While all the cabins are water facing, two of them have the most beautiful view of the sunset and of Pender Harbour. The space between the two connect, so they would be great for multi-family/multi-generational guests. There are also two gorgeous, estate-style houses to rent, out of view, high above the property. These four-bedroom, luxury accommodations boast hot tubs and a large, expansive, ocean-front lawn. This special spot makes me wish I could get married again! Vow renewals, anyone?
Pender Harbour Resort and Marina
This property is truly a family vacation paradise. There are several accommodation options, ranging from RV's, motel rooms, cabins, or a four-bedroom chalet. The property is reminiscent of times gone by (think Kellerman's, in the Catskills, in the film, "Dirty Dancing"). There is a pool, lawn games, including horseshoes, and a convenience store that sells ice cream. Children can ride their bikes on the circular road throughout the property, and yes, time does stand still. The interior of the cabins are simple, but step onto your ocean-facing deck and it's a luxurious view: enjoy your hot tub and BBQ while watching the boats coming in and out of the marina. What I like about this spot is you can do as much as you want, (boat to Nelson Island?) or as little (read in your hot tub and drink wine). And with lots to do for the children, this really is an ideal family destination.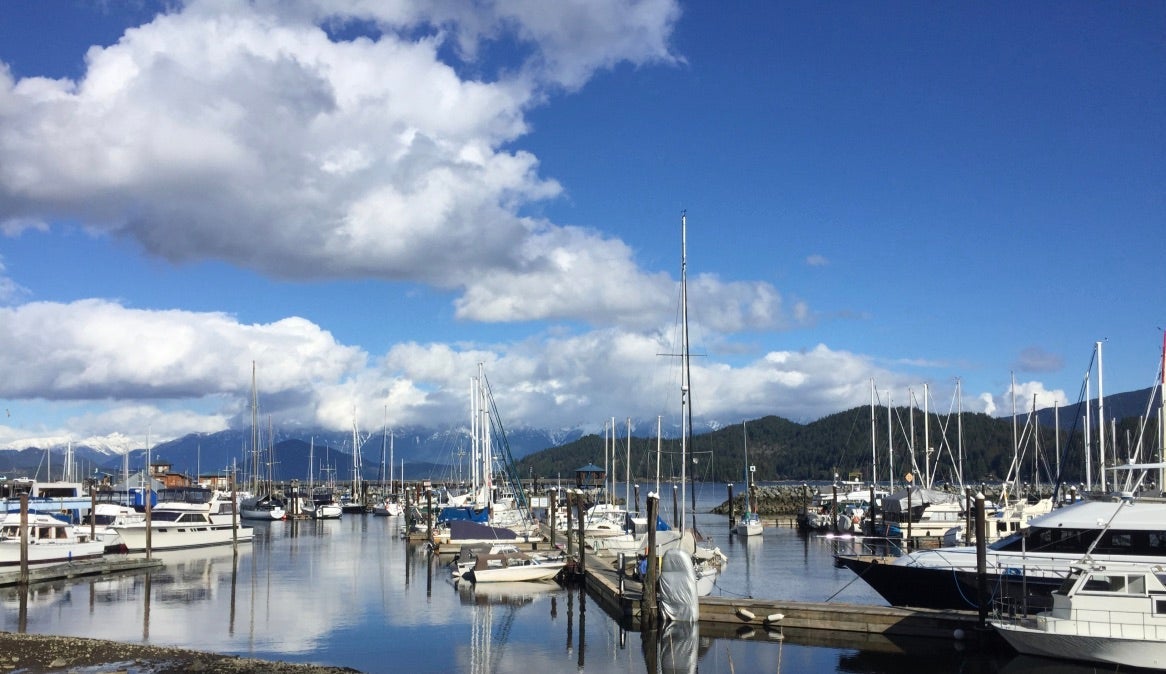 Rockwater Secret Cove Resort
With three distinct aesthetics, this ocean-front resort in Halfmoon Bay has something to offer all guests. The cabins are simple and ideal for a night away with someone special, and are far enough removed to offer complete privacy. The tent house suites are situated high on a cliff, nestled amongst a forest boardwalk, and are close to a modern-day fairytale setting. The lodge offers comfortable ocean views with balconies overlooking the pool. Their restaurant offers a B.C. forward menu and overlooks the beautiful Malaspina Straight, but room service is available if you want to stay in your robe, after visiting their full-service, Seabreeze Spa. Sign me up!
Sunshine Coast Villa B&B
This is a traditional, European-style B&B experience, offered at an accessible price point. The hosts (and Penny the dog) greet and welcome you like friends. We've driven by this property numerous times and had no idea that tucked above the highway is a 9-acre Spanish style villa. With two acres of vineyards and terra cotta toned structures, sitting in the hot tub overlooking the ocean is reminiscent of a Mediterranean vacation. Sorry, kiddos, but this is an adult only destination; but dogs and cats are welcome to stay with their humans. The hosts will even watch Fido while you paddle board, kayak or check out one of the local restaurants in Madeira Park. The four distinct upstairs bedrooms are separate enough for private, intimate stays, but close enough to book with a group, (Women's Weekend, anyone?) complete with a shared lounging area. Although there are numerous outdoor local adventures, both the interior and exterior of this property is filled with nooks of comfy chairs, enticing visitors to curl up with a book and do nothing but relax. And you don't even have to take off your PJ's to go downstairs for a buffet-style breakfast in their brightly tiled kitchen. Who knew this little Sunshine Coast gem was hidden away in plain sight?
West Coast Wilderness Lodge
West Coast Wilderness Lodge is located in Egmont, close to the Earls Cove ferry, to Powell River and Lund, and is a favourite destination for outdoor enthusiasts. This property is so special. The sense of deliberate isolation is felt throughout. All rooms/suites are ocean or forest view, so there is beauty and a feeling of calm wherever you look. This is a sought-after location for weddings, meetings, and retreats as they easily accommodate large groups in both their indoor and outdoor dining rooms. Their Inlets restaurant has an excellent reputation with both locals and international guests. And although there is a float plane Fly n' Dine option, the rest of us can simply drive up the coast for an evening of locally-sourced, West Coast cuisine and a fabulous collection of B.C. wines. Uniquely, all featured activities are managed onsite, so adventures such as the Princess Louisa Inlet tour, Zodiac Adventures, Float Plane tours or Jet Skiing are all easily available to book on the premises. And if you are a traveler who just needs to stay on dry land, the Skookumchuck Rapids hike is nearby. Keep an eye out for the new Bistro opening in Summer 2021, and new building of over 200 rooms, a pool and spa, slated to open by Spring, 2022. We can hardly wait! 

Please check property websites for up-to-date Covid-19 Safety Plans and fall rates and specials. Happy Travels!